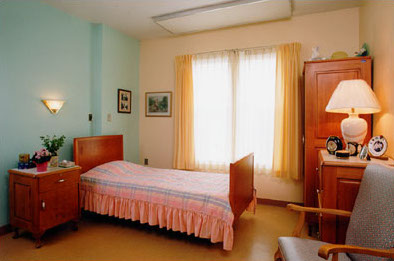 Private Beds
What is private pay?
Two of our fifty-five rooms are maintained on a private pay basis for older people requiring complex care.
Private pay residents pay a monthly fee for their care that is not subsidized by government funding.
What services are offered?
The extensive quality care that St. Jude's is known for including:
24 hour nursing provided by registered nurses
Recreation and social programs planned by a Recreation Therapist
Meals and snacks, special diets, on-site Dietitian
House Physicians, Podiatrist, Dentist, Dental Hygienist
Pastoral care for residents of all faiths
Palliative care
In house Laundry
What are the rooms like?
The rooms are bright, character rooms looking out on the gardens and are well established homes of the neighborhood. They are approximately 14 feet by 12 feet, accommodating our electric bed and selection of personal furnishings. Each room has a private toilet and sink.
Who is accepted as a "private pay" resident?
Applicants sixty-five years and older who require ongoing care. Pre-admission includes an assessment and interview by our Resident Services Manager. All requested medical information completed and submitted and a signed residency agreement are conditions of admission. Admission is considered chronologically, based on the waitlist registration date. Special consideration is given to assist couples to live together when possible.
Can a resident who is a private pay stay at St. Jude's when they qualify to receive government funding?
Yes. Private pay residents who qualify for long term care can request that their name be put on the "transfer list" for one of our government-funded beds. When a funded bed becomes available at St. Jude's, the resident can stay here and would be admitted as a client of Vancouver Coastal Health.
The "funded" resident would move out of the designated "private pay room" to another room in the Home. The move may be to a double room, but only until another private room becomes available.
How can someone register on the waiting list?